2022 Studio Art Senior EXHIBITION

February 25, 2022–March 18, 2022
This is the capstone experience for Studio Art Majors. Each Senior Student has chosen an area of emphasis. They work with a media or process that they feel best visually communicates their ideas and interests as an artist. Each artist has built a unified body of work to represent their strengths and creative vision, and they have all worked collaboratively in curating, designing, and hanging this exhibition.
View the 2022 Senior Studio Art Exhibition at Baldwin Wallace University for more information.
EXHIBITION DATES
February 25, 2022–March 18, 2022
(Closed March 7–11 for Spring Break)
Reception: Friday, March 4, 5 pm–8 pm
Department of art
Develop your artistic talent and build analytical thinking and technical skills that prepare you for career opportunities in education, advertising, arts management, design and more.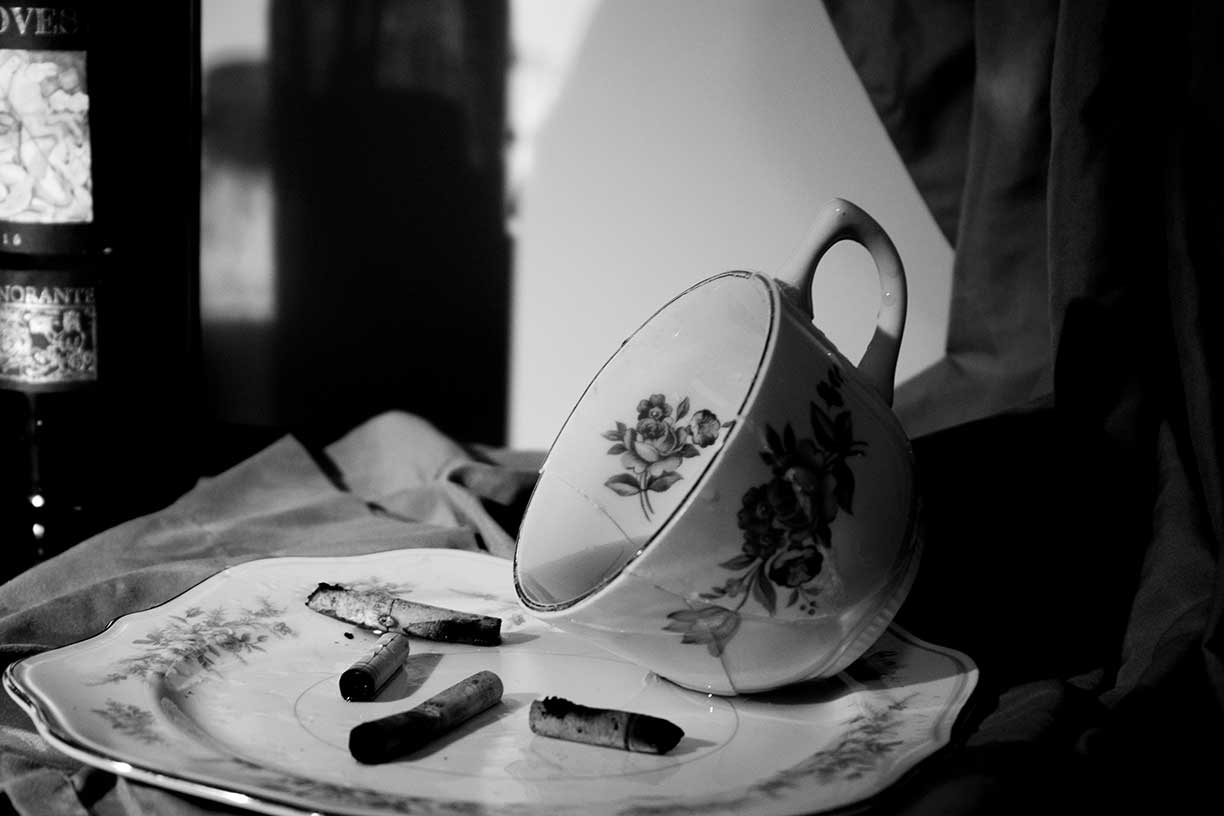 Poison 1
Digital Photography
KELLY LINNABARY
My main focus in art is in photography, and I have loved taking pictures for as long as I can remember. I think this is because a photograph to me is like having a time capsule, and that you will always have photographs to remember things by, despite things in your life-changing/evolving. This idea also came about from having a rapidly changing and difficult life growing up, so I noticed from a young age, I had a deeper appreciation for the simpler things in life.
Read More
I got my first professional camera in fall of 2019, and it was not till early 2021, where I found myself switching to strictly shooting in black and white and began to cover deep topics of mental illness or difficult experiences I have been through. I've found photography is a way for me to express these experiences when words are hard to come by. And with photography, I am typically interested in still life and like to focus my work on using symbolism, strong shadows, and the idea of minimalism.
Though my work may be a little unsettling, I feel my mental illnesses are a large part of who I am and how I identify today.  My goal for viewers is not for sympathy or a way for others to feel bad. My goal is to share my story so others may speak up about their own and find that they are not alone. A lot of people think their stories are not interesting, but every little thing in your life that has happened to you has placed you exactly where you are today, and that should be celebrated. You are exactly where you need to be right now, and your story matters. YOU matter.

ASHLEY PLATT
The ability to actualize my ideas and expression of my inner self is what drives me to create. With my ever-growing mediums of expression, including drawing, painting, printmaking, and photography, I can bring my concepts to the forefront, share my aesthetic fascinations, and subtly illuminate my inner battles.
Since I began taking my talents seriously, the human form, predominantly female, has become my preferred subject matter. With my portraits, I have started developing a style that I can describe as naturalistic with cartoonesque characteristics. As I have developed my style that can be recognized as my own, I still paint naturalistic/realistic portraits from photographs, something I have enjoyed for most of my life.
Many of my works illustrate somewhat idealistic women. These women are romanticized characters that illuminate a type of youthful vibrancy that often corresponds with the darker themes of my work. For me, these are women I can see characteristics of myself in or who I strive to be. Art has always been a therapy to me, and it has been a way to cope with my anxiety and other mental health issues. I illustrate women I can look up to, and I can see myself in and like myself; these powerfully portrayed women all have weaknesses, as I do. They are all searching for something more significant than themselves and are on a path to finding it. I often pair these women with darker themes, whether that be a darker color pallet or motifs relating to death or horror.
Read More
Many skeletons can be seen in my works, illuminating my interest in life after death. I enjoy representing the ties between life and death and the beauty and complexity that brings them together, allowing me to come to terms with the fact of how fragile human existence is. The juxtaposition of an ideal, somewhat childlike female figure with the darker themes of my work help to clarify my concepts of fragility in life and the strength and courage involved in living that life. Illustrating strong women with the idea of life and death surrounding them is a way to represent my battles with mental health, coping, and pushing forward through fears of the unknown.
Overall, art is my passion and with it, you will see the unfiltered version of me. Creating figures that I can find a part of myself in or who I can look up to drives me. I find the subject matter of life and death and the tethering of them fascinating and aesthetically pleasing. For me, my art portrays my internal battles with who I am, my fears of both life and death, and the idea of Memento Mori.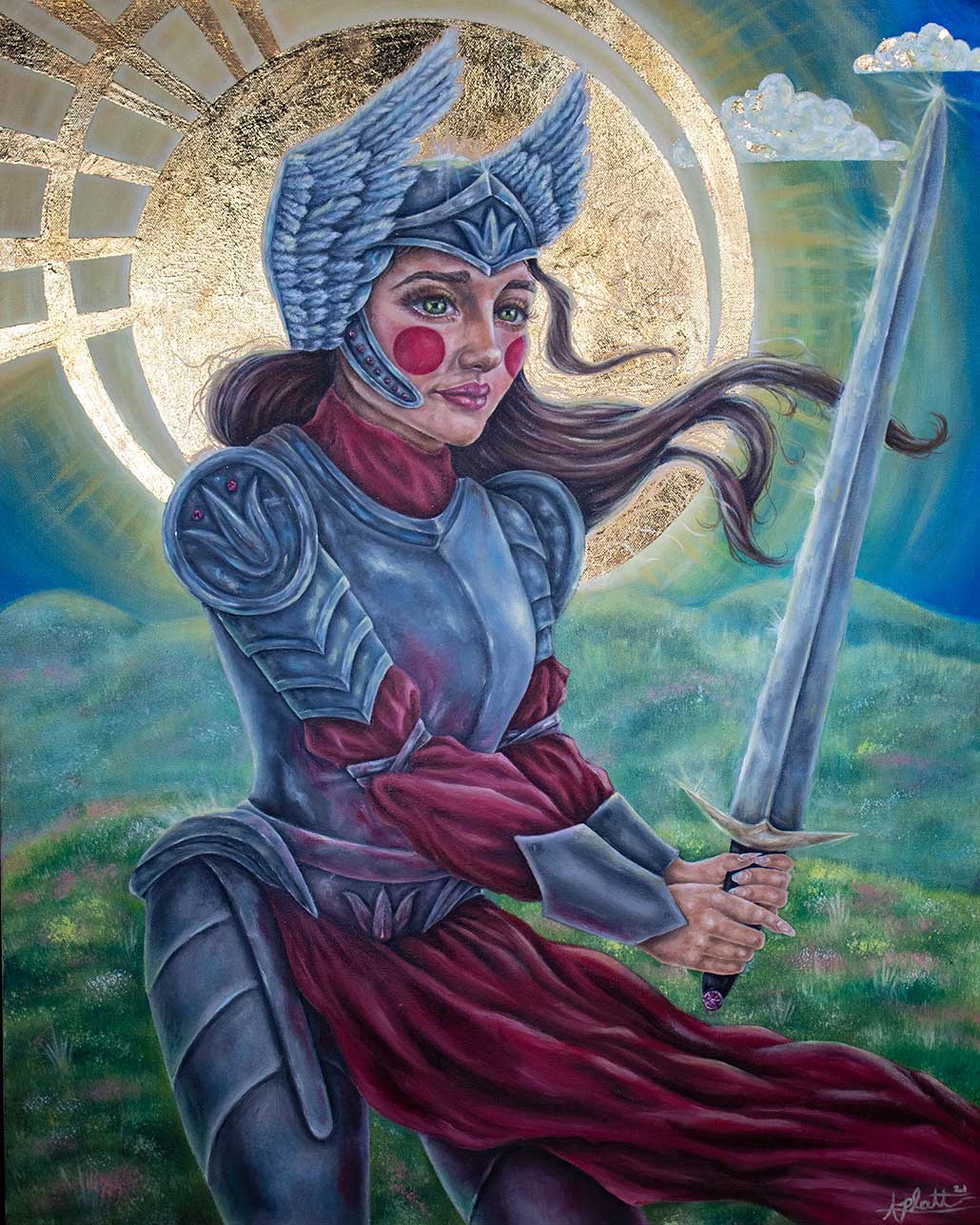 A Crusade for Harmony
Oil and Gold Leaf on Canvas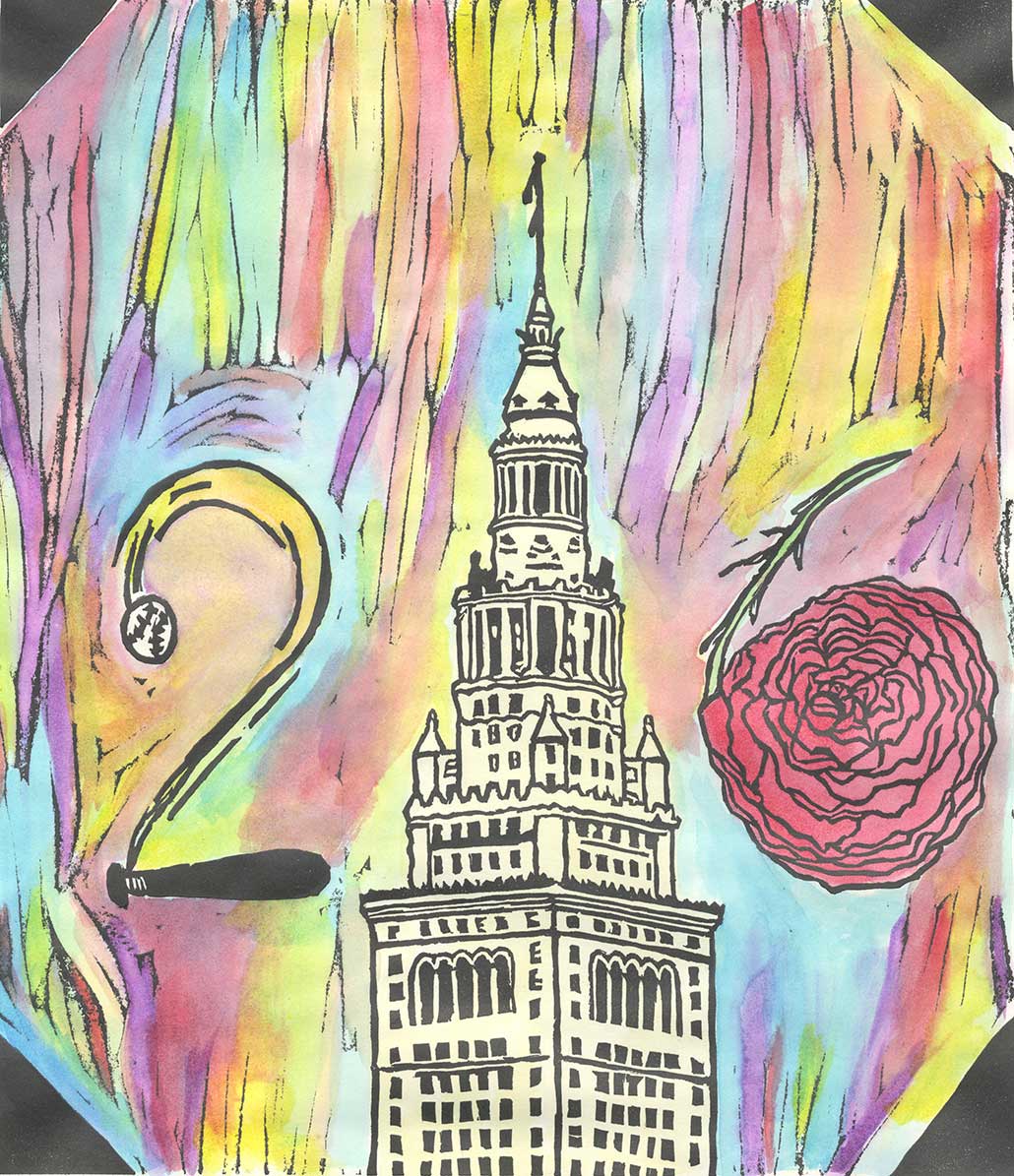 216
Linocut and Watercolor
DANICA RADIVOJEVIC
The way I come up with my ideas is by creating a collage using photographs, magazine cutouts, and drawings. In the past I always felt that I have not come up with anything original or creative, so making collages helped me expand my ideas. I never know what I will come up with. I see the cutout pieces like a jigsaw puzzle by putting different pieces together and seeing if it fits. I started out in making collages by grouping the images in a big pile, a composition in which I drew inspiration from the movie posters of Drew Struzan. I also tried to make a narrative in the collages, but it is something that I struggle with for I don't have a clear picture of what I want to tell. After making the collages out of paper, I draw out or trace the collage, then transfer it onto linoleum and begin to cut. I have to simplify what the collage looks like for the print since it involves carving on the linoleum. Recently, I've been trying to see if I can stretch out the possibility of transferring the collages into other mediums like paintings, sculptures, or other materials. My purpose for doing so is that I don't want to limit myself to just one medium. I want to explore what I can do in others.
Read More
When I am not doing collages, I tend to just make work based on little things I like, for example, nature. I like drawing plants and flowers. I also take photographs of landscapes, of nature, and cities while on road trips. I spend my time mostly indoors doing the prints and paintings, so exploring the outdoors is refreshing to me.

EMILY SONBY
The women in my life have become one of my main influences and motivations. As friends share the pieces of their life story with me, I slowly am able to create a portrait of them and their story. Each new detail they share gives me a new piece to a puzzle I was able to construct. So many of these struggles were highlighted by the fact they were women, and I became all too aware of the universal struggles so many women go through. In response, I saw truly how strong the women in my life were, and I loved them even more for it. I wanted to create a body of work that portrayed these women as beautiful and complex as I see them in my mind. Works that were built piece by piece as these women were built in my eyes. Despite the damage they have endured, they are strong and resilient. I wanted to use canvases that incorporated these qualities.   I chose to build them from wood discarded from a kitchen using the tools my mom had shown me how to use from a young age. The canvases are overlayed pieces of wood.  Each small component representing one dimension of the women I chose to present, built to craft their image. In this way, I was able to create a homage to those women that shape and inspire me every day, to those women I love more than I thought was possible.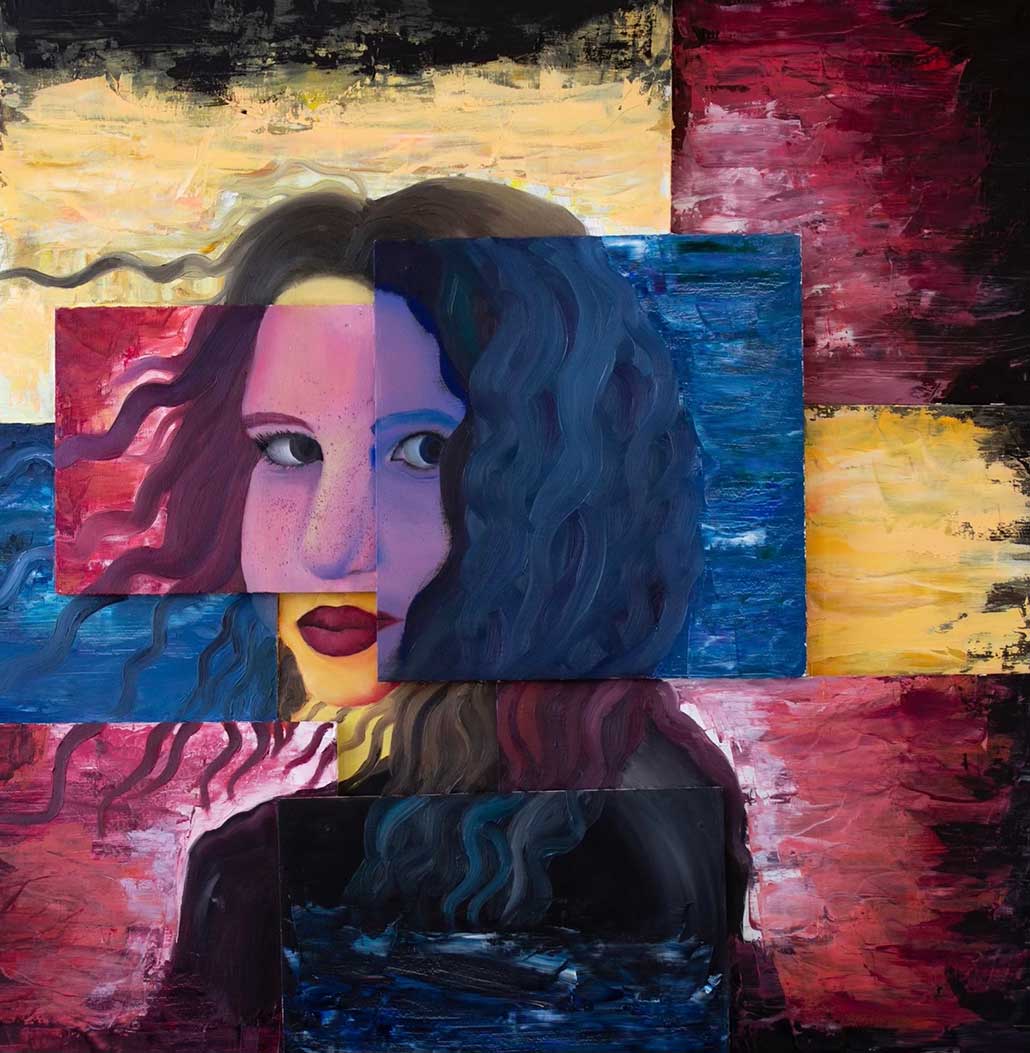 Ella
Oil on Wooden Panels
Photography of the event will be used to promote the University and your attendance provides permission to use your likeness in promotional material.
MONDAY:           2:00pm - 5:00pm
TUESDAY:           2:00pm - 5:00pm
WEDNESDAY:     2:00pm - 5:00pm
THURSDAY:        2:00pm - 5:00pm
FRIDAY:               2:00pm - 5:00pm
SATURDAY:         CLOSED
SUNDAY:             CLOSED
BY APPOINTMENT (440) 826-2152